My beautiful new Grace App Update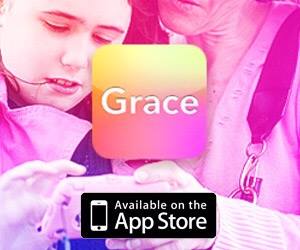 Grace App 3:0 is here and it is beautiful! We now have the ability to edit or add text on all images, an iPad view zoom of the sentence strip AND if you need it, Tap Card to Speak....
Just over 12 months ago Grace App was reviewed by the excellent "Smart Apps for Special Needs Kids" - a respected peer review website made up of Mums and Dads who use and understand the Apps they are reviewing. It was a wonderful review that made it clear that they "got it."
Like all good reviews, they made some very constructive suggestions, that I mostly agreed with. So I am delighted to announce that Grace App 3:0 does everything they were looking for, and a bit more.
First up we have my most wanted new feature which is text edit. I want everyone who interacts with Gracie to say the same word when pointing at a picture. I also want people to recognise her pictures. Adding or changing text to suit the learner is very important.
Would you know what Gracie wanted without the additional text?
You can now review any photos added by the user and add text: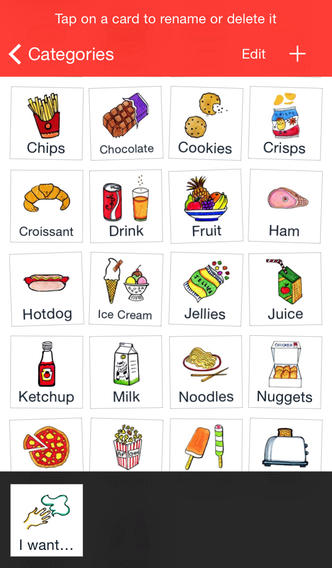 The edit function now allows you to add, remove or change text on pre-installed AND your own images.



You can also change or delete any text on the original images such as changing "Fries" to "Chips" etc. My little sister and niece in Australia adapted their Grace App to suit Aussie names:
If you have edited your Grace App I would love to share it here. Please email lisa@graceapp.com
And after 4 years of sometimes angry, sometimes constructive emails and quite a few narky reviews I have allowed the "Tap Card to Speak" function to be part of our options. (it was always there in the device options)
This is to take into account that some people with certain disabilities will never be able to vocalise. It also allows the user to interact with people who might not understand how AAC works, and yes it might suit some non-speaking users better.
Disclaimer: please don't use it if you don't have to!
I think it should always
be the choice of the user
whether they use their own voice however well they can speak (with the pictures as a visual prompt) or, allow
you
to point and read the sentence out. Don't insist on "Voice."
Personally, I would rather hear my own daughter's
attempts
at vocalising than an electronic voice. And if she doesn't want to talk, I read the sentence myself. Being able to speak a few words has given Gracie great independence. She can go out to the pool or the park without having to bring an iDevice or a bulky book. We are not having long conversations, but if she calls out from the back seat "I want Nugget, Chip" then I know to stop at the Drive Thru for a happy meal. And she isn't silenced when her battery runs out. (Gracie is never silenced by anything)
No sound also reduces the temptation to press the buttons to stim on sounds rather than communicate. And this is about communication.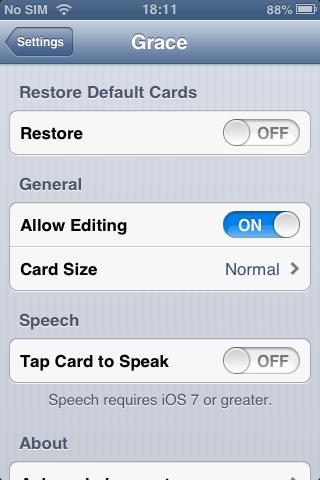 iPhone/iPod view of option for "Tap card to Speak" for those who choose.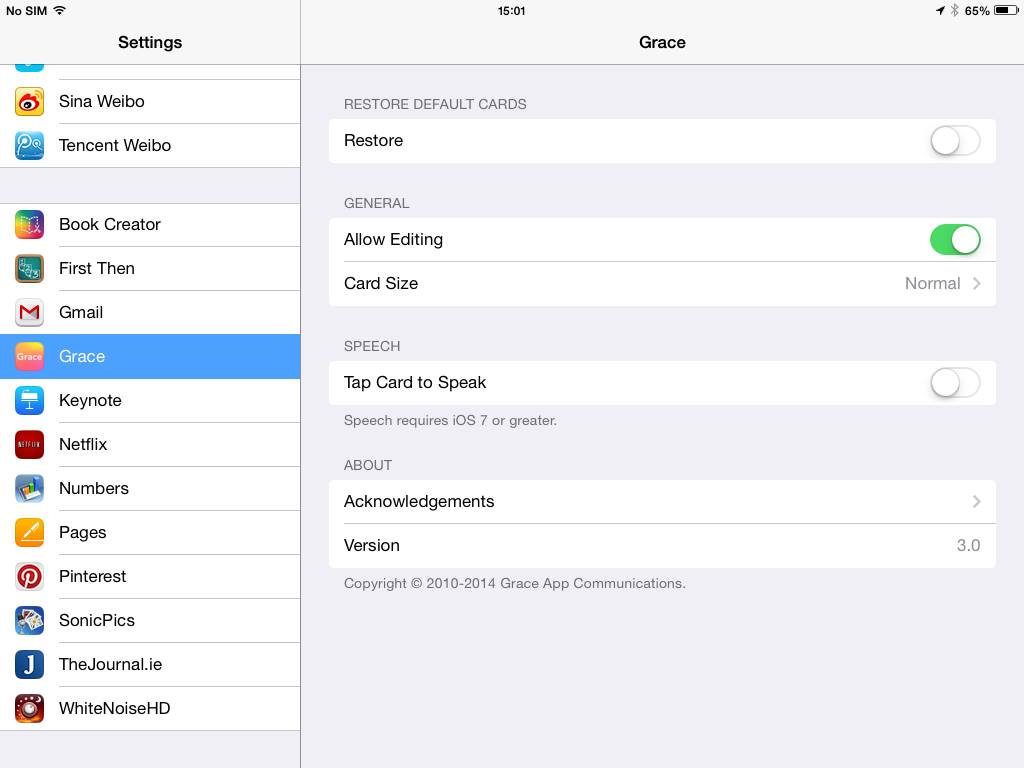 iPad view of the new options.
All of the above features are available in our 7 languages which you can select via the Device Settings. (
click here for the steps
)
I actually set up Grace App on my iPad in Spanish during our recent holiday. By the way, the waiter liked that I listened to his prompt, then tried to pronounce it "his way"
www.graceapp.com/blog/parlez-vous-francais/ (or Spanish, Danish, German, Arabic, Brazilian Portuguese)
And as you can see by my screen shots we have added the iPad zoom so you have the sentence strip enlarged on the screen.
After 4+ years of holding an iPhone and using the "Tilt" to zoom, Gracie really likes this. I think she finds it gives the sentence emphasis as in "I really fricken want this so can you please stop what you are doing and get it NOW!"
For the visually and mobility impaired, you now have a choice of 3 CARD sizes. Select via settings as above.
The Ts & Cs
Minimum requirement is iOS 6 so that means that you can use iPhone 3GS, 4, 4S and all the iPhone 5 models, iPod 4th Gen and iPad 2,3,4 the new iPad, mini and air.
If you have an older iPod or the iPad 1 you can still use Grace App 2:0. When you buy Grace App you own it forever, so if you ever do update your device, iTunes will let you install the latest version. And you can have it running on up to 5 devices.
You can check out all the new features on the "
Guide to Grace App 3:0
" Or email me for a copy.