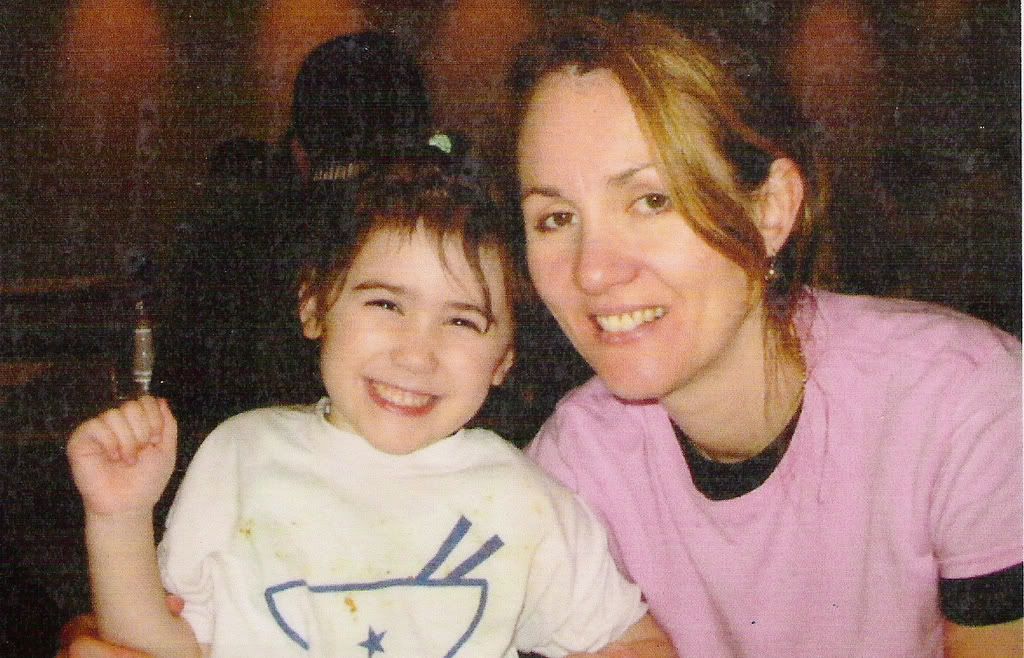 On this day in 1999, Mon Ange ou Demon arrived in my life to make me laugh and ..smile.
She is 9 today and sang "Happy..Bert-dai" with me this morning. Then we counted 9 kisses.
(then we disagreed about wearing a party dress, she went into school in her H&M Tee-dress as usual)
As you know I rarely post photos of the real "us" but this happy snap lives on top of the dresser outside her room, and cannot be moved. Or else she says "I Want - Mummy and ----"
And I think it captures exactly how I feel about her.
A scan of a laminated snap from her "flash cards" set. I wish I had the original but alas..
So wish my Bratty a happy 9th Bert-dai.
Now I have to put on my pinny and go ice an Oswald Cake for her school party.
xx
Cake:
shop bought victoria sponge covered in home made icing with Blue food coloring
Legs

:
Fig rolls cut diagonally and iced as above
Mouth and eyes

: Liquorice from Sweet shop
Hat:

From Mr Potato Head,
The Clockwork Orange Edition
Weenie

the dog

: Fig roll as above dressed with colored icing and liquorice